OCBA Honors John Sganga as This Year's Harmon G. Scoville Recipient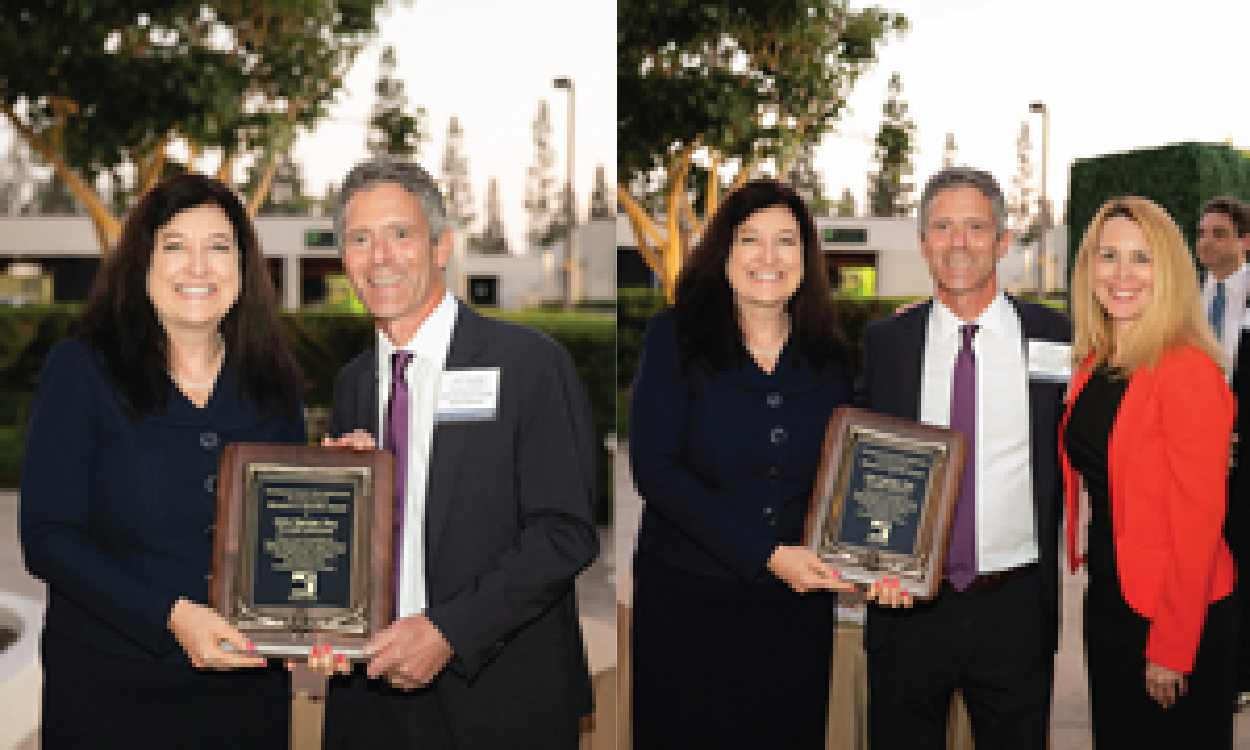 During the OCBA Volunteer Recognition Celebration held on October 5, 2021, the OCBA honored its member volunteers for their dedicated service and community voluteerism throughout the year. Also, the Harmon G. Scoville Award was presented to John B. Sganga, Jr. This award annually recognizes a member of the Orange County legal community who has exemplified the highest standards of the legal profession throughout their career, as well as contributed to and championed the mission of the OCBA.
Read the full story here. To view a list of past honorees, click here.

Featured Webinars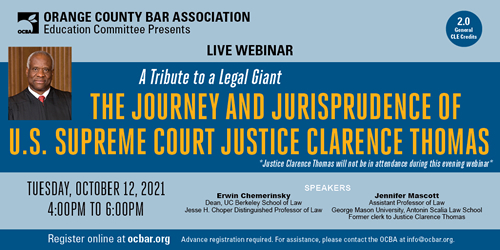 OCBA Tribute to A Legal Giant: The Journey and Jurisprudence of U.S. Supreme Court Justice Clarence Thomas
Presented by the OCBA Education Committee
Tuesday, October 12, 2021
Click here to register for the webinar.

OCBA News
OCBA 2022 Section Leadership Election - Accepting Online Nominations!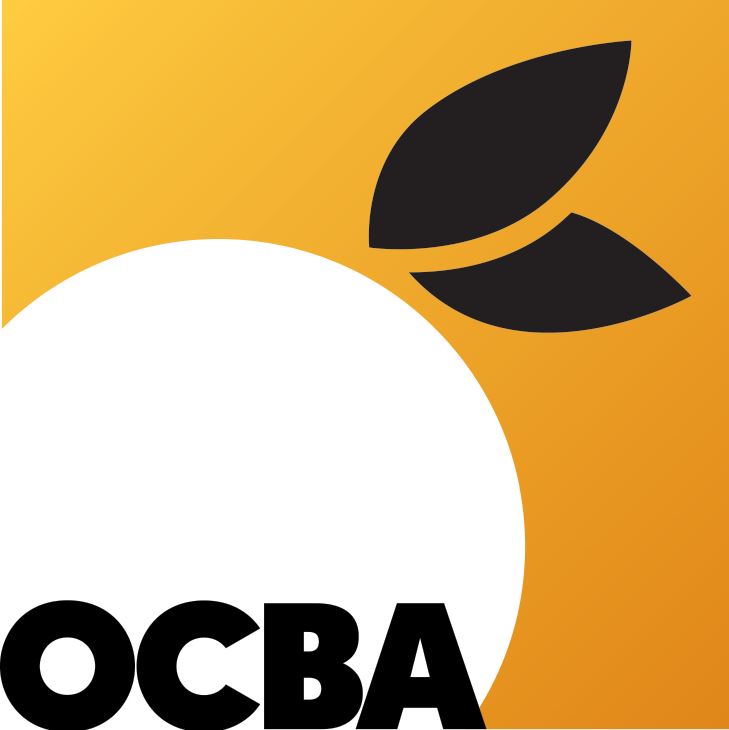 Online nominations WILL OPEN on Tuesday, Oct. 12, 2021 for the Banking & Lending, Commercial Law & Bankruptcy, Elder Law & Special Needs, Immigration Law, Intellectual Property & Technology Law, Labor & Employment Law, Real Estate Law, Tort & Trial, and Trusts & Estates sections. Please note nominations will close on Monday, Oct. 25, 2021.
Online nominations WILL OPEN on Tuesday, Oct. 26, 2021 for the Business Litigation, Construction Law, Conservatorship, Guardianship, & Protective Proceedings, Entertainment, Sports, & Marketing Law, Family Law, Health Care Law, Insurance Law, and Solo Practitioner/Small Firm sections. Please note nominations will close on Monday, Nov. 8, 2021.
View the full nomination and election schedule online at ocbar.org/elections.
---

OCBA 2022 Membership
Renew your OCBA Membership for 2022 and stay connected to the Orange County Legal Community. Continue to enjoy the benefits of member pricing on CLE programs and events and, access to valuable attorney resources. Make yourself visible to the Bar with advertising discounts in Orange County Lawyer magazine. Membership is based on the calendar year, so renew early to avoid any interruption in benefits. Renew Today!
---
Promo Content:
With 15 years of experience supporting the legal community, LawPay is the industry standard in online payments. Their user-friendly solution makes it easy for lawyers to securely accept client credit card and eCheck payments online. Plus, LawPay was built with input from bar association partners and their ethics committees to ensure all payments are processed in compliance with attorney trust accounting rules. Right now, LawPay has an exclusive offer for OC Bar members: open a new LawPay account by October 30th and receive 3 months with no monthly fee + a $100 credit towards processing fees! Learn more here.
---
Worthy Mentions
Have Good News of Your Own to Share? Contact OCBA Communications Manager Erick Palacios at epalacios@ocbar.org to acknowledge your achievement through the OCBA.

OCBA Events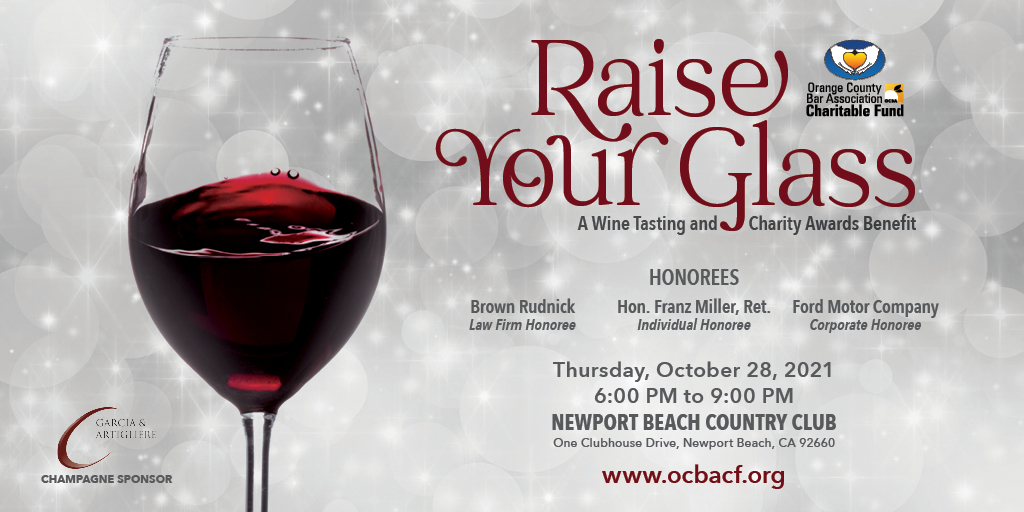 OCBA Charitable Fund Annual Benefit
Thursday, October 28, 2021
Newport Beach Country Club, Newport Beach
Raise Your Glass proceeds assist local law-related charities who are experiencing an even greater need for funding during these challenging pandemic-times. You can support the OCBA Charitable fund in the following ways:

---
OCTOBER 12, 2021
OCBA Tribute to a Legal Giant

OCTOBER 13, 2021
OCBA Trusts & Estates Section Annual Seminar

OCTOBER 25, 2021
OCBA Annual Consumer Bankruptcy Law Update

OCTOBER 26, 2021
OCBA YLD Webinar: Avoid Falling into Ethical Traps

SAVE THE DATES


Volunteer Opportunities
Pack a To-Go Lunch Bag
Presented by the OCBA Community Outreach Committee
Saturday, October 23, 2021
People without homes have even less access to food and hygiene during this pandemic. Please join the OCBA Community Outreach Committee in their Pack a To-Go Lunch activity to help bring them a meal, essential items, and thoughtful notes during this challenging time.
Click here for more information.
OSPR Incident Volunteer - Pipeline P00547 Incident (Huntington Beach)
OSPR's Spontaneous Volunteer Program developed in 1996, provides an opportunity for concerned citizens to safely and effectively participate in Unified Command approved volunteer tasks during an oil spill event. You must be 18 years of age, able to lift 25lbs and follow County Public Health COVID procedures. Tasks may include pre-impact beach cleanup or debris removal. Safety training is required and a training link will be provided to registered volunteers. Please register here to volunteer.
Volunteer to Score Orange County High School Mock Trial
Attorney volunteers are need to score CRF-OC's 41st Annual High School Mock Trial Competition. The preliminary rounds in November will take place virtually through Zoom. This opportunity is open to attorneys (practicing or retired) as well as those awaiting bar exam results. See flyer for more details. Check-in opens at 4:45pm, all volunteers must be checked in by 5:00 pm, and most trials will finish around 7:30 pm. To register to volunteer visit: https://www.crfoc.org/mock-trial-attorney-volunteer/
Remote Pro Bono Opportunity: Unlawful Detainer Answer Clinic
Assist low-income tenants facing eviction during the pandemic by helping to prepare answers to Unlawful Detainer complaints in this remote clinic that takes place every Tuesday, shifts at 1:30 p.m. and 2:15 p.m. Volunteers and clients "meet" via a conference call, and housing staff attorneys are available to provide real-time assistance in a video conference room for the duration of the clinic. Watch the.45-minute prerecorded training video here. To sign up, please email Monica Mar, Associate Director of Pro Bono at mmar@clsocal.org.
Remote Pro Bono Opportunity: Eviction Defense: Trial Co-Counsel
CLA SoCal is seeking attorneys with jury trial experience to co-counsel eviction cases with CLA SoCal staff attorneys. Volunteers will work with CLA SoCal staff to prepare the case for jury trial, conduct discovery, participate in settlement discussions, and represent clients at trial, all with the support of a housing staff attorney. Currently, CLA SoCal has 6 pending trials set for October-November 2021, with more likely to come. To sign up, please email Monica Mar, Associate Director of Pro Bono at mmar@clsocal.org.
Join an OCBA Committee – Your involvement is an integral component of the OCBA's service to its members, the community, and the judiciary.
OCBA HELP-Line – Join the Hotline of Experienced Legal Professionals to provide brief consultations in your area of practice to inquiring OCBA Attorney Members.


MAKE AN INFORMED REFERRAL WHEN A CLIENT'S LEGAL NEED FALLS OUTSIDE YOUR AREA OF PRACTICE
Refer with confidence to the OCBA's Lawyer Referral & Information Service (LRIS). An experienced non-profit community service providing quality legal referrals for over 50 years. LRIS representatives screen each call and properly refer callers to an attorney for legal needs or to a local organization for non-legal assistance. LRIS attorneys have experience in over 30 areas of law and provide a free brief consultation with each client to discuss their legal needs and fees.

OCBA Lawyer Referral & Information Service provides referrals online at www.lrisoc.org or by phone at: (877) 257-4762 or (949) 440-6747.

Young Lawyers Division
Learn more about the OCBA Young Lawyers Division or join today! Visit the OCBA calendar to find great opportunities to connect with fellow YLD members.
OCBA YLD Webinar: Avoid Falling into Ethical Traps
Tuesday, October 26, 2021

---
Masters Division

The OCBA Masters Division is open to practitioners with 25 years or more in the practice of law. Learn more about the OCBA Masters Division or join today and discover unique networking opportunities.
Congratulations to Shelly's Heroes on a first place finish in the Annual Masters Division Leadership Development Committee OCBA Trivia Night competition. Team Captain Shelly Aronson and team members Hon. Gail Andler, Ret., Brian Ducker, Pete Pierce and Andrew Wood.

Law School Corner
OCBA Law Student Members:
Special upcoming webinar registration offer! Click Here to learn more.


---
---


Orange County Lawyer Magazine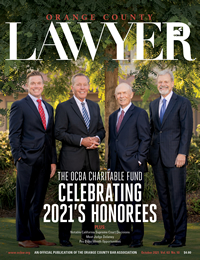 COVER STORY Raise Your Glass 2021: "Summer Wine" in October
by Deirdre M. Kelly
The New Orange County Collaborative Courts Supervising Judge: the Honorable Thomas A. Delaney
by Nikki Presley Miliband
Anti-Asian Hate Violence in Orange County: A Historical Perspective
by the Honorable Kirk H. Nakamura and the Honorable Deborah C. Servino
Spotlight on the OCBA's Pro Bono Committee
by Lee K. Fink and Jared H. De Jong
Community Legal Aid SoCal Volunteer Does Good in the World With Pro Bono Work
by Kate A. Marr
California Supreme Court: A Year in Review
by Mary-Christine Sungaila and Lauren S. Jacobs
Ten Years After Don't Ask Don't Tell
by Caitlin R. Emmons

Affiliate Bars
OCWLA Annual Gala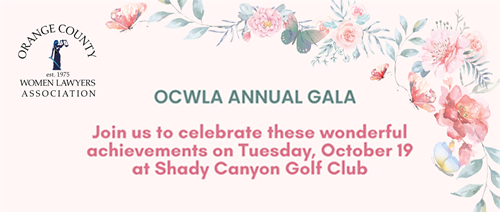 To submit affiliate bar events or news to the Orange County Lawyer, contact OCBA Communications Manager Erick Palacios.

From the Courts & State Bar
For more information, please visit the Courts and State Bar websites.