OCBA Honors Judge Kirk H. Nakamura as This Year's Harmon G. Scoville Recipient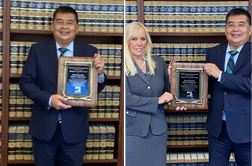 During the OCBA Volunteer Recognition Celebration held virtually on October 1, 2020, the OCBA honored its member volunteers for their dedicated service and community voluteerism throughout the year. Also, the Harmon G. Scoville Award was presented to Hon. Kirk H. Nakamura. This award annually recognizes a member of the Orange County legal community who has exemplified the highest standards of the legal profession throughout their career, as well as contributed to and championed the mission of the OCBA.
Read the official OCBA press release. Or, to view a full list of past honorees, click here.

Featured Webinar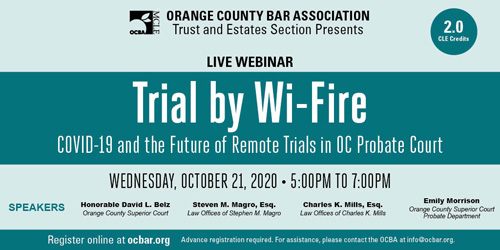 OCBA LIVE WEBINAR
Trusts & Estates Section Annual Seminar
Wednesday, October 21, 2020 at 5:00 p.m.
Click here to register for the webinar.

OCBA News
OCBA 2021 Section Leadership Election - Accepting Online Nominations!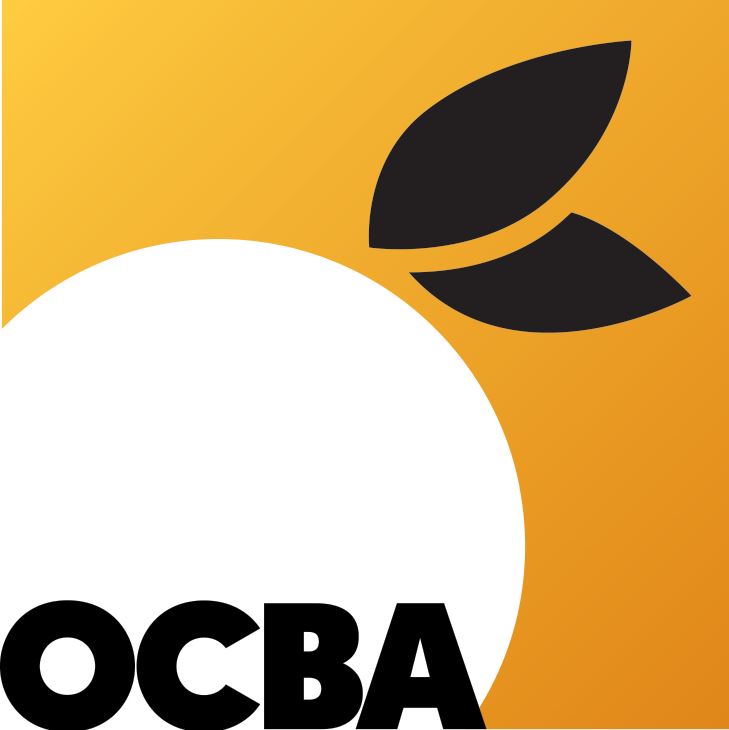 Online nominations OPENED on Tuesday, Oct. 13, 2020 for the Banking & Lending, Commercial Law & Bankruptcy, Elder Law & Special Needs, Immigration Law, Intellectual Property & Technology Law, Labor & Employment Law, Real Estate Law, Tort & Trial, and Trusts & Estates sections. Please note nominations will close on Monday, Oct. 26, 2020.
Online nominations WILL OPEN on Tuesday, Oct. 27, 2020 for the Business Litigation, Construction Law, Conservatorship, Guardianship, & Protective Proceedings, Entertainment, Sports, & Marketing Law, Family Law, Health Care Law, Insurance Law, and Solo Practitioner/Small Firm sections. Please note nominations will close on Monday, Nov. 9, 2020.
Online elections WILL OPEN on Tuesday, Nov. 3, 2020 for the Alternative Dispute Resolution, Appellate Law, Business & Corporate Law, Corporate Counsel, Criminal Law, Environmental Law, International Law, Tax Law, and Workers' Compensation sections.
View the full nomination and election schedule online at ocbar.org/elections.
---

OCBA 2021 Membership
Renew your OCBA Membership for 2021 and stay connected to the Orange County Legal Community. Continue to enjoy the benefits of member pricing on CLE programs and events and, access to valuable attorney resources. Make yourself visible to the Bar with advertising discounts in Orange County Lawyer magazine. Membership is based on the calendar year, so renew early to avoid any interruption in benefits. Renew Today!
---
Worthy Mentions
Have Good News of Your Own to Share? Contact OCBA Publications & Social Media Manager Jane Tang at jtang@ocbar.org to acknowledge your achievement through the OCBA.

OCBA Events
OCTOBER 19, 2020
OCBA Seminar: The Minor's Compromise Petition – Getting it Right the First Time
OCTOBER 19, 2020
OCBA Charitable Fund Judge Kenneth Lae Charity Golf Scramble
OCTOBER 20, 2020
OCBA Charitable Fund Golf Tournament Virtual Awards Ceremony
OCTOBER 21, 2020
OCBA Trusts & Estates Section Annual Seminar
OCTOBER 28, 2020
OCBA Family Law Section Annual Seminar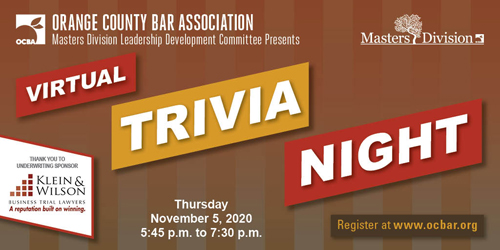 NOVEMBER 5, 2020
OCBA Virtual Trivia Night
NOVEMBER 17, 2020
OCBA Veterans and Military Committee Open House and CLE Program
NOVEMBER 19, 2020
OCBA Specialty Credit Night Seminar
DECEMBER 10, 2020
OCBA Annual Ethics Update Seminar


Does a client's legal need fall outside of your area of practice? Refer clients with confidence to the OCBA Lawyer Referral & Information Service toll free at (877) 257-4762. A non-profit legal referral service serving Orange County for over 55 years.
LRIS refers to attorneys in over 30 different areas of law. Each call is carefully screened and each client receives a free brief consultation. JOIN NOW - Accepting new LRIS panel member applicants. If you have any questions, please call (949) 440-6700, ext. 128, or email lris@ocbar.org.

Masters & Young Lawyers Divisions

The OCBA Masters Division is open to practitioners with 25 years or more in the practice of law. Learn more about the OCBA Masters Division or join today and discover unique networking opportunities.
OCBA Virtual Trivia Night
Thursday, November 5, 2020
---
Learn more about the OCBA Young Lawyers Division or join today! Visit the OCBA calendar to find great opportunities to connect with fellow YLD members.
OCBA Young Lawyers Division Webinar
Business Development: Advice on Steps to Take Today
Tuesday, October 27, 2020 at 3:00 p.m.
Moderator: C. Ryan Fisher, Manatt Phelps & Phillips LLP
Speakers: Melinda Gomez, Law Office of Melinda Gomez; Adrianne Marshack, Manatt Phelps & Phillips LLP; Craig Silver, Silver Dispute Resolution

Law School Corner
News and Events from Orange County Law Schools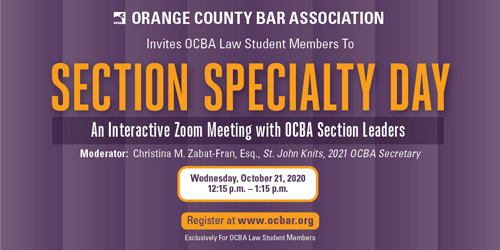 OCBA Section Specialty Day
Wednesday, October 21, 2020 at 12:15 p.m.
*Complimentary program exclusively for OCBA Law Student Members only.*
Join us for an interactive Zoom meeting with OCBA Section Leaders and learn about different areas of law. Receive valuable insights and advice during virtual breakout sessions! Click here to register online.
---
---

Orange County Lawyer Magazine
Update Your Mailing Address
During this time, if you wish to re-route your print subscription to another address, you can update your OCBA member profile online.

Interested in advertising?
The OCBA has three main avenues of advertising to OCBA members and the greater legal community, and this year we've added NEW DIGITAL ADVERTISING OPPORTUNITIES to the mix. For more information, visit the OCBA Advertising webpage or contact oclawyer@ocbar.org.

Affiliate Bars
To submit affiliate bar events or news to the Orange County Lawyer, contact OCBA Publications & Social Media Manager Jane Tang.

From the Courts & State Bar
For more information, please visit the Courts and State Bar websites.