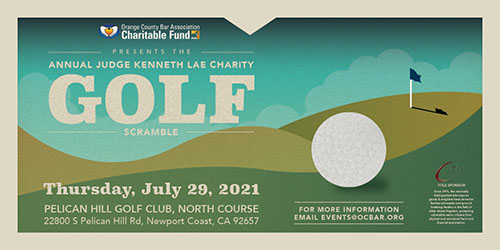 OCBA Charitable Fund Judge Kenneth Lae Charity Golf Scramble
Thursday, July 29, 2021
Pelican Hill Golf Club, Newport Coast
Limited Space Available
Tee up for charity at the ever-popular Judge Kenneth Lae Charity Golf Scramble! Proceeds benefit the OCBA Charitable Fund, the philanthropic arm of the OCBA, which provides funding and resources to organizations and programs that enhance the system of justice and promote equal justice for all. Registration and sponsorship opportunities are still available. Click here for more information.

Featured Webinar

Animal Law Issues
Presented by the OCBA Education Committee
Thursday, August 5, 2021
Animal Law affects different aspects of everyday life, and can affect your practice, no matter your specialty. Earn 1.5 MCLE credits as an esteemed panel, Sabrina Ashjian, the California State Director for the Humane Society of the United States and David B. Rosengard, the Managing Attorney in the Animal Legal Defense Fund's Criminal Justice Program, discuss how animal law issues can be encountered in legal representation (criminal or civil), legislative work, counseling newer industries, and with clients in a variety of practice areas. Click here to register online.

OCBA News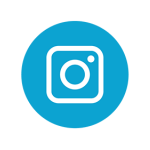 Follow Us on Instagram
Connect with the OCBA and its members on Instagram. Find us @OCBarAssociation, and follow along as we share how OCBA President Larisa Dinsmoor is bringing the OCBA together in 2021, or cover the latest happenings with OCBA Young Lawyers Division, or talk about how to participate in trending conversations.
---
Worthy Mentions
Have Good News of Your Own to Share? Contact OCBA Communications & Publications Manager Jane Tang at jtang@ocbar.org to acknowledge your achievement through the OCBA.

OCBA Events

JULY 27, 2021
OCBA Virtual Meeting: Mastering Virtual Presence and Communication

JULY 29, 2021
OCBA Charitable Fund Judge Kenneth Lae Charity Golf Scramble

JULY 30, 2021
OCBA Masters Division Conversations with the Courts Webinar: OCSC Civil & Probate

August 5, 2021
OCBA Animal Law Issues Seminar

August 20, 2021
OCBA The Judges' Series: Avoiding Problems at Trial

SAVE THE DATES


Volunteer Opportunities
Sunday Dinner Drop-Off at Friendship Shelter
Presented by the OCBA Community Outreach Committee
Sunday, August 1, 2021
The OCBA invites its members to help the Friendship Shelter by providing a Sunday dinner meal to its residents. Dinner will be dropped off at designated time. A Friendship Shelter volunteer will retrieve the food items from your car. Donated food must be from a market or restaurant. No homemade food donations. Click here for more information.
Join an OCBA Committee – Your involvement is an integral component of the OCBA's service to its members, the community, and the judiciary.
OCBA HELP-Line – Join the Hotline of Experienced Legal Professionals to provide brief consultations in your area of practice to inquiring OCBA Attorney Members.
Applications Now Open for Volunteers to Serve on State Bar Committees
Volunteers who are selected will play an essential role in guiding the work of the State Bar in its efforts in support of its core mission of protecting the public through the licensing, regulation, and discipline of attorneys, and by working to increase the diversity of the legal profession and increase access to legal services. Information on the overview of volunteer opportunities can be found here.


MAKE AN INFORMED REFERRAL WHEN A CLIENT'S LEGAL NEED FALLS OUTSIDE YOUR AREA OF PRACTICE
Refer with confidence to the OCBA's Lawyer Referral & Information Service (LRIS). An experienced non-profit community service providing quality legal referrals for over 50 years. LRIS representatives screen each call and properly refer callers to an attorney for legal needs or to a local organization for non-legal assistance. LRIS attorneys have experience in over 30 areas of law and provide a free brief consultation with each client to discuss their legal needs and fees.

OCBA Lawyer Referral & Information Service provides referrals online at www.lrisoc.org or by phone at: (877) 257-4762 or (949) 440-6747.

Young Lawyers Division
Learn more about the OCBA Young Lawyers Division or join today! Visit the OCBA calendar to find great opportunities to connect with fellow YLD members.
---
Masters Division

The OCBA Masters Division is open to practitioners with 25 years or more in the practice of law. Learn more about the OCBA Masters Division or join today and discover unique networking opportunities.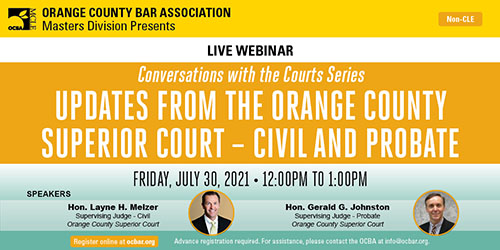 OCBA Masters Division: Conversations with the Courts Webinar
Friday, July 30, 2021 at 12:00 p.m.
Please come and hear the Supervising Judges of Orange County Superior Court's Civil and Probate provide an update regarding access to justice in the Civil and Probate Departments in light of our changing landscape. Register online at www.ocbar.org.

Law School Corner
OCBA Law Student Members:
Launching a successful legal career starts here! Click here to learn more about your membership benefits.


---
---
---


Orange County Lawyer Magazine
For the July issue, Orange County Lawyer focuses on Free Speech and Social Media. Click here to start reading the digital edition.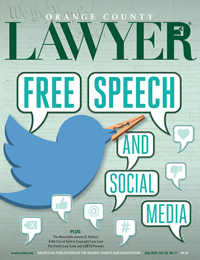 Update Your Mailing Address
As California re-opens, if you wish to re-route your print subscription to another address, you can update your OCBA member profile online.

Interested in advertising?
The OCBA has three main avenues of advertising to OCBA members and the greater legal community, and this year we've added DIGITAL ADVERTISING OPPORTUNITIES to the mix. For more information, visit the OCBA Advertising webpage or contact oclawyer@ocbar.org.

Affiliate Bars
OCJBA Bowling Happy Hour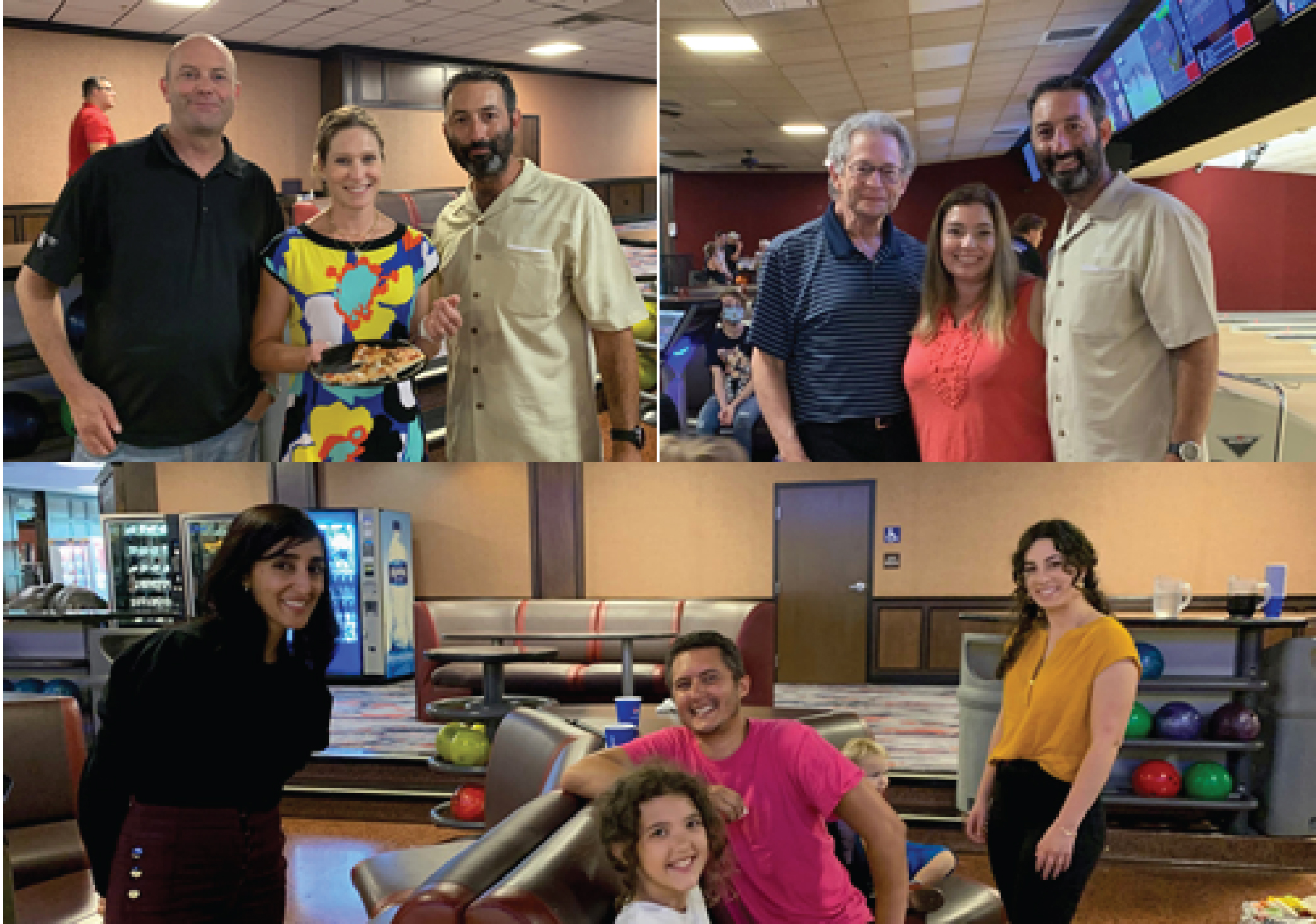 To submit affiliate bar events or news to the Orange County Lawyer, contact OCBA Communications & Publications Manager Jane Tang.

From the Courts & State Bar
For more information, please visit the Courts and State Bar websites.