TWO MORE DAYS TO CAST YOUR VOTE!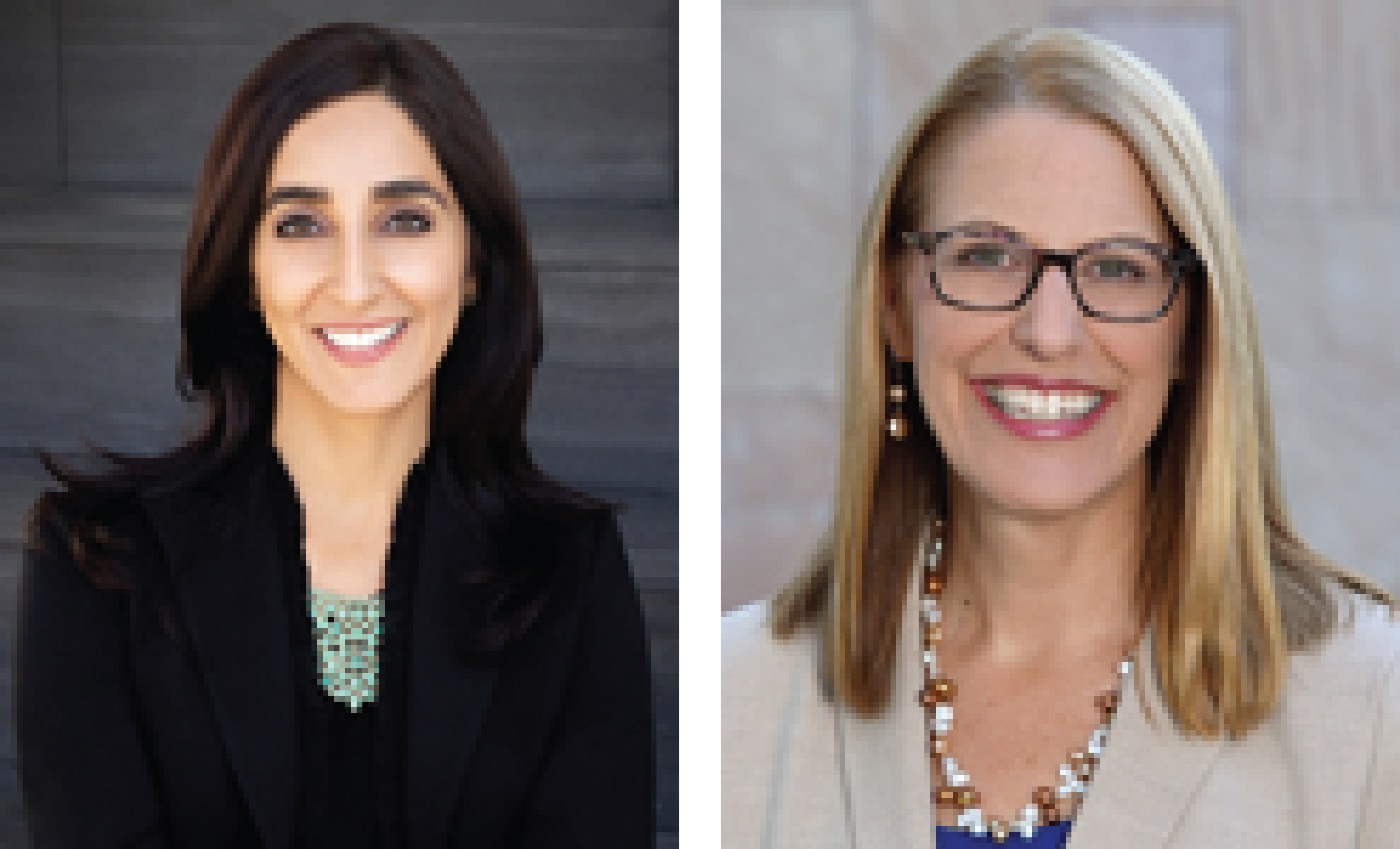 Tomorrow will be the last day to cast your vote for the next OCBA secretary as well as four directors-at-large! Voting closes at 2:30 p.m. tomorrow, Sept. 27, 2022. Only active attorney members are eligible to vote.

Terms begin Jan. 1, 2023. All officer terms are for one year; all Board member terms are for three years. The person elected 2023 Secretary will be expected to continue to serve in the following capacities: 2024 Treasurer, 2025 President-Elect, 2026 President, and 2027 Immediate Past President.

In alphabetical order, allow us to introduce your two candidates for OCBA Secretary: Shirin Forootan and Teresa A. McQueen, shown here. To view all the candidate statements, please click here. View the Slate of Candidates and cast your ballot now at www.ocbar.org/vote.

Featured Seminar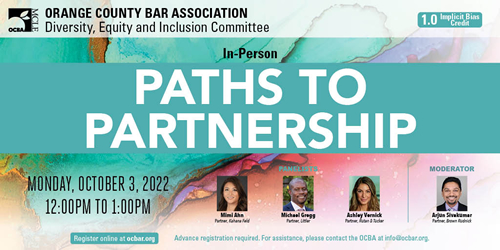 Paths to Partnership
OCBA Headquarters, Newport Beach
Download the flyer for more information or register online.

OCBA News
OCBA Section Leadership Elections

This fall, all OCBA sections will conduct online elections for the open leadership position of Secretary/Treasurer. Per the OCBA Bylaws, the 2022 Section Chair-Elect and Secretary/Treasurer will automatically move up to 2023 Chair and Chair-Elect, respectively. The elections will be conducted on a staggered schedule from October through December, and the section leaders will take office in January 2023 for a one-year term. All active attorneys who are members of a Section as of October 1, 2022 will be able to vote for their respective leaders. Self-nominations are highly encouraged. Click here to view the full elections schedule.

Nominations open TOMORROW, Tuesday, September 27 for the following sections:
- Alternative Dispute Resolution
- Appellate Law
- Business & Corporate Law
- Corporate Counsel
- Criminal Law
- Environmental Law
- International Law
- Tax Law
- Workers' Compensation
---
OCTOBER 11, 2022
OCBA Volunteer Recognition Reception
OCBA Member Volunteers are invited to a reception honoring their dedicated efforts and community service throughout the year! A highlight of the evening will be the presentation of the Harmon G. Scoville Award to Richard J. McNeil, Partner at Crowell & Moring LLP. This award annually recognizes a member of the Orange County legal community whose career exemplifies the highest standards of the legal profession, who is widely known as a champion of the constitutional system of justice, and who has made significant contributions to the OCBA and its community. Click here to read the official press release.
---
Hon. Maria D. Hernandez was elected Presiding Judge, and Hon. Cheri T. Pham Assistant Presiding Judge in an uncontested election for the two top posts of the Superior Court of California, County of Orange. Both Judge Hernandez and Judge Pham will begin their two-year terms on January 1, 2023. Superior Court of California, County of Orange serves the third most populous county in the State and the sixth largest county nationwide.

Click here to view the official press release.
---
Worthy Mentions
Have Good News of Your Own to Share? Contact OCBA Communications Manager Erick Palacios at epalacios@ocbar.org to acknowledge your achievement through the OCBA.

Events

SEPTEMBER 1 - OCTOBER 1, 2022 *SOLD OUT*
OCBA 2022 College of Trial Advocacy (Civil)

OCTOBER 3, 2022
OCBA Seminar: Paths to Partnership

OCTOBER 11, 2022
OCBA Volunteer Recognition Reception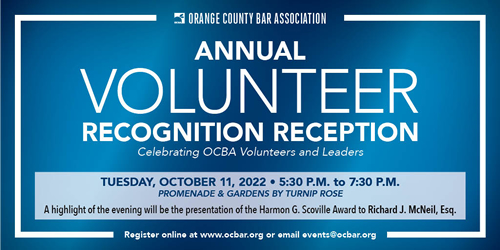 SAVE THE DATES


Volunteer Opportunities

Attorney Volunteers Needed to Score CRF-OC's High School Mock Trial Program
CRF-OC is tentatively approved for an in-person competition this year at the Central Justice Center in Santa Ana and needs your help! Approximately 75 attorney volunteers are needed for each of the first four preliminary rounds in November. Check-in opens at 4:45 pm and all volunteers must be checked in by 5:15 pm. Trials will end before 8:00 pm. A virtual orientation for attorney volunteers will take place Wednesday, October 26 at 12:15 pm. CRF-OC provides all the necessary materials; outside research is not required. Register here. See flyer for more details.
CLA SoCal: Remote Pro Bono Opportunity: Unlawful Detainer Answer Clinic
Assist low-income tenants facing eviction during the pandemic by helping to prepare answers to Unlawful Detainer complaints in this remote clinic that takes place every Tuesday, shifts at 1:30 p.m. and 2:15 p.m. Volunteers and clients "meet" via a conference call, and housing staff attorneys are available to provide real-time assistance in a video conference room for the duration of the clinic. Watch the.45-minute prerecorded training video here. To sign up, please email Monica Mar, Associate Director of Pro Bono at mmar@clsocal.org.
CLA SoCal: Remote Pro Bono Opportunity: Eviction Defense: Trial Co-Counsel
CLA SoCal is seeking attorneys with jury trial experience to co-counsel eviction cases with CLA SoCal staff attorneys. Volunteers will work with CLA SoCal staff to prepare the case for jury trial, conduct discovery, participate in settlement discussions, and represent clients at trial, all with the support of a housing staff attorney. To sign up, please email Monica Mar, Associate Director of Pro Bono at mmar@clsocal.org.
Join an OCBA Committee – Your involvement is an integral component of the OCBA's service to its members, the community, and the judiciary.
OCBA HELP-Line – Join the Hotline of Experienced Legal Professionals to provide brief consultations in your area of practice to inquiring OCBA Attorney Members.


ATTENTION! ATTENTION! OCBA LAWYER REFERRAL & INFORMATION SERVICE HAS MADE RECENT CHANGES TO PANEL QUALIFICATIONS
CLICK HERE for information about how to receive referrals for the following GENERAL PANELS:
- Administrative
- Admiralty
- Condemnation
- Elder Law
- Entertainment
- Environmental
- International
- Medical Malpractice
- Mental Health
- Military

If you are interested in joining LRIS, Click here to join!
OCBA Lawyer Referral & Information Service provides referrals online at www.lrisoc.org or by phone at: (877) 257-4762 or (949) 440-6747.

Young Lawyers Division
Learn more about the OCBA Young Lawyers Division or join today! Visit the OCBA calendar to find great opportunities to connect with fellow YLD members.
Join an OCBA YLD Committee, Make a Difference
OCBA YLD committees help plan annual events and activities for OCBA YLD members. Take advantage of this opportunity to share your ideas, meet fellow YLD members, plan programs and events, and help the local legal community. Visit the OCBA YLD webpage at www.ocbar.org for more information, or sign-up online at www.ocbar.org/yldcommittee.
OCBA YLD Angels Game Night 2022
Friday, September 30, 2022
---
Masters Division

The OCBA Masters Division is open to practitioners with 25 years or more in the practice of law. Learn more about the OCBA Masters Division or join today and discover unique networking opportunities.
REGISTER NOW
OCBA Masters Division Seminar: You're Not In Kansas Anymore!
Monday, November 7, 2022

Law School Corner
OCBA Law Student Members:
Launching a successful legal career starts here! Click here to learn more about your membership benefits.


Law students are invited to participate in one of the 26 OCBA Specialty Sections which focus on professional growth and are a great resource to explore various areas of law. Attend your first section meeting for free, contact membership@ocbar.org to sign up.

---
---


Orange County Lawyer Magazine
Update Your Mailing Address
During this time, if you wish to re-route your print subscription to another address, you can update your OCBA member profile online.

Interested in advertising?
The OCBA has three main avenues of advertising to OCBA members and the greater legal community. DIGITAL ADVERTISING OPPORTUNITIES are available year round. For more information, visit the OCBA Advertising webpage or contact oclawyer@ocbar.org.

Affiliate Bars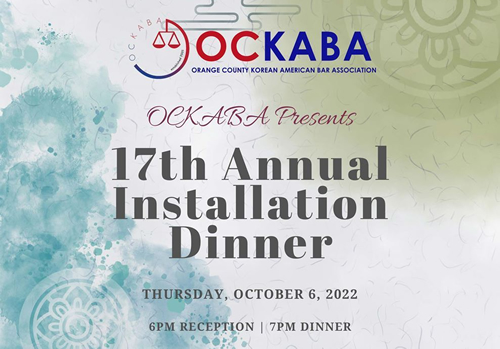 To submit affiliate bar events or news to the Orange County Lawyer, contact OCBA Communications Manager Erick Palacios.

From the Courts & State Bar
For more information, please visit the Courts and State Bar websites.