Featured Webinars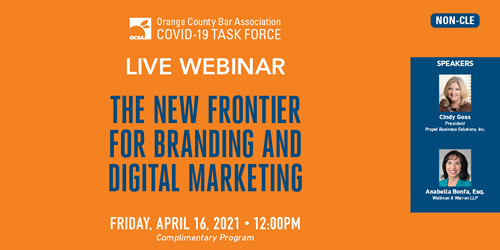 OCBA LIVE WEBINAR
The New Frontier for Branding and Digital Marketing
Presented by the OCBA COVID-19 Task Force
Friday April 16, 2021
Click here to register for the webinar.

OCBA News
OCBA Mentoring Program
Now Accepting Protégé Applications!
Application Deadline: Monday, April 19, 2021
The OCBA Mentoring Committee is currently accepting Protégé Applications for the 2021-2022 Mentoring Program, and new this year, we are expanding the Protégé eligibility to members practicing over five years so do not miss this unique opportunity! This program provides lawyers with a helpful, independent resource to assist in their career development. Protégé participants will be matched with an experienced, active OCBA member Mentor available in such areas as ethics and professionalism, practice and law office management, general lawyering skills and business/client development. Complete a Protégé Application online, or email mentoring@ocbar.org for more information..
---
Worthy Mentions
Have Good News of Your Own to Share? Contact OCBA Publications & Social Media Manager Jane Tang at jtang@ocbar.org to acknowledge your achievement through the OCBA.

OCBA Events
DEADLINE TO REGISTER APRIL 7, 2021
OCBA Spring Mentoring Cafe
APRIL 7, 2021
OCBA Diversity & Inclusion Committee and CAPAJA: 2021 California Judicial Appointment Nuts & Bolts
APRIL 8, 2021
California Judges Association and OCBA Diversity & Inclusion Committee: Ethics & Wellness Part 3 - Mentorship Roundtable
APRIL 16, 2021
OCBA Webinar: The New Frontier for Branding and Digital Marketing
Presented by the OCBA COVID-19 Task Force
APRIL 20, 2021
OCBA Mommy Esquire Virtual Monthly Meeting: Women Out Front: The Power of Persuasion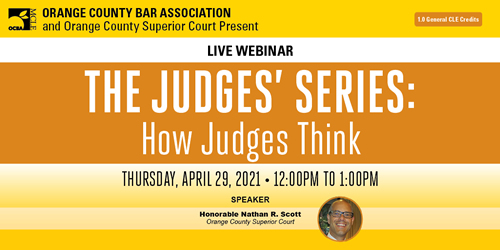 APRIL 29, 2021
OCBA Webinar: THE JUDGES' SERIES: How Judges Think

APRIL 30, 2021
OCBA Diversity and Inclusion Committee Webinar: ANTI-HATE Community Presentation
Complimentary Webinar

Volunteer Opportunities
Someone Cares Soup Kitchen Donation Drive
Deadline to donate: Friday, April 16, 2021
For many years, the OCBA Community Outreach Committee has volunteered at the Someone Cares Soup Kitchen to help serve meals to those who would otherwise go hungry. Due to the COVID pandemic, the OCBA has been unable to volunteer in-person. While we still cannot volunteer in-person, we have found a way to help. Along with needing monetary donations towards food items, Someone Cares Soup Kitchen needs air purifiers for their Costa Mesa facility. You can help by donating towards the air purifiers and/or towards meals by donating online at www.someonecareskitchen.org. If making a donation online, please type "OCBA" next to your name.
You can also mail your donation to:
Someone Cares Soup Kitchen
720 West 19th Street, Costa Mesa, CA 92627.
If mailing in your donation, please indicate it is for OCBA donations drive.
OCBA Mentoring Program
Volunteer Mentors Needed!
Application Deadline: Monday, April 19, 2021
OCBA Members in practice over 7 years are encouraged to participate as Mentors in the 2021-2022 Mentoring Program. As a Mentor, you will be matched with a lawyer as a helpful, independent resource to assist in their career development. To participate as a Mentor, complete a Mentor Application online, or email mentoring@ocbar.org for more information..
Join an OCBA Committee – Your involvement is an integral component of the OCBA's service to its members, the community, and the judiciary.
OCBA HELP-Line – Join the Hotline of Experienced Legal Professionals to provide brief consultations in your area of practice to inquiring OCBA Attorney Members.

Grant and Program Opportunities
The Legal Services Corporation (LSC) announces the availability of grant funds to provide civil legal services to eligible clients during calendar year 2022. In accordance with LSC's multiyear funding policy, grants are available for only specified service areas. The list of service areas for which grants are available, and the service area descriptions are available here. The Request for Proposals (RFP), which includes instructions for preparing the grant proposal, will be published here on or around April 15, 2021. Applicants must file a Pre-application and the grant application through GrantEase: LSC's grants management system.
Please click here for filing dates, applicant eligibility, submission requirements, and updates regarding the LSC grants process. Please email inquiries pertaining to the LSC grants process to LSCGrants@lsc.gov.
---
Orange County Legal Consortium (OCLC) Accepting Incubator Program Applications
OCLC is launching an incubator program for new attorneys wishing to start their own solo law practice. It is a collaborative effort between four Orange County non-profit legal services firms: Community Legal Aid SoCal, Veteran's Legal Institute, Public Law Center, and the Elder Law and Disability Rights Center. Applications are open to any licensed California Attorney with priority given to 2019 and 2020 graduates.


BUILD OR EXPAND YOUR CLIENT BASE IN 2021!
The OCBA Lawyer Referral & Information Service (LRIS) is accepting 2021 LRIS Membership Applications. Click here and join!
All members will have real-time access to their referrals. Contact us today at lris@ocbar.org for more information about the LRIS Portal and how easy it will be to access and manage your referrals online.

Young Lawyers Division
Learn more about the OCBA Young Lawyers Division or join today! Visit the OCBA calendar to find great opportunities to connect with fellow YLD members.
OCBA YLD Virtual Meet & Greet with the OCBA President
April 15, 2021
Join fellow Young Lawyers Division members for a casual and informative meet & greet, hosted by Sean Lobb, YLD Business & Development Chair. This is a great opportunity to introduce yourself to OCBA President, Larisa Dinsmoor, whose focus this year is connection, community and unity. Come share ideas, connect with your OCBA YLD Community, and diversify your business network!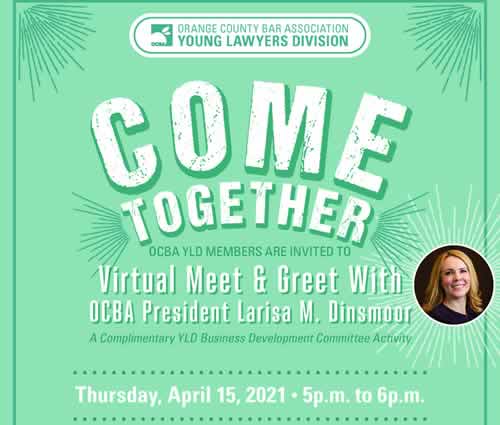 ---
Masters Division

The OCBA Masters Division is open to practitioners with 25 years or more in the practice of law. Learn more about the OCBA Masters Division or join today and discover unique networking opportunities.

Law School Corner
OCBA Law Student Members:
Launching a successful legal career starts here! Click here to learn more about your membership benefits.


News and Events from Orange County Law Schools
---

---

Orange County Lawyer Magazine
The April 2021 issue is now available and celebrates the OCBA's 2021 Leadership and who's who in the OCBA. Click here to start reading the digital edition.
COVER STORY Who's Who in the OCBA
Meet the OCBA leaders who tirelessly pursue excellence and promote the OCBA's mission.
From a Surfboard and $28 to Superior Court Judge: A Profile of Judge Robert Gerard
by Richard W. Millar, Jr.
Business Litigation During a Global Pandemic: Covid Coverage Lawsuits and Force Majeure Disputes
by Geoffrey T. Stover
Environmental Parity and Outdoor Equity
by Kimberly L. Bick
The Judge's Kids
by Justice Eileen C. Moore

Affiliate Bars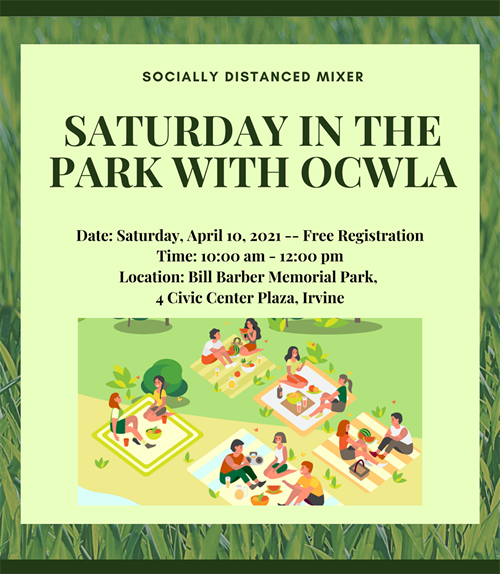 To submit affiliate bar events or news to the Orange County Lawyer, contact OCBA Publications & Social Media Manager Jane Tang.

From the Courts & State Bar
For more information, please visit the Courts and State Bar websites.