OCBA Volunteer Recognition Reception - NEXT TUESDAY!
OCBA Member Volunteers are invited to a reception on Tuesday, November 28th honoring their dedicated efforts and community service throughout the year! A highlight of the evening will be the presentation of the Harmon G. Scoville Award to Cherrie I. Tsai, Vice President, Deputy General Counsel and Corporate Secretary at Kaiser Aluminum Corporation. This award annually recognizes a member of the Orange County legal community whose career exemplifies the highest standards of the legal profession, who is widely known as a champion of the constitutional system of justice, and who has made significant contributions to the OCBA and its community. Click here to read the official press release.
Register online to secure your place!
---

OCBA Announces Newly Appointed Board Members for 2024
The OCBA is proud to announce the following recently appointed members who will be installed as OCBA Board of Directors at the 2024 Judges' Night & Annual Meeting. Justin W. Fong (AmWest Funding Corp.), Sara C. Nakada (Orange County Public Defender's Office), and Alexander C. Payne (Minyard Morris LLP) will be installed along with the other continuing board members, OCBA officers, and OCBA Charitable Fund Board of Directors on Thursday, January 18, 2024 at the Irvine Marriott. For more details about the 2024 Judges' Night & Annual Meeting, visit the event webpage..

Featured Seminar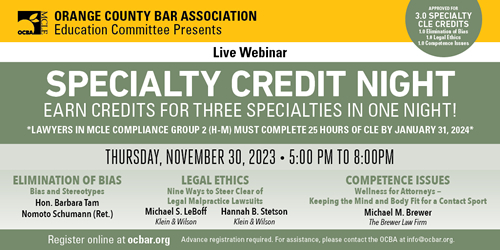 OCBA Specialty Credit Night
Presented by OCBA Education Committee
Thursday, November 30, 2023
Click here to register online.


OCBA News
OCBA 2024 Section Leadership Election - Vote Online!

Online elections OPENED on Tuesday, Nov. 14, 2023 for the Banking & Lending, Commercial Law & Bankruptcy, Elder Law & Special Needs, Immigration Law, Intellectual Property & Technology Law, Labor & Employment Law, Real Estate Law, Tort & Trial, and Trusts & Estates sections. Please note voting will close on Monday, Nov. 27, 2023. Click here to vote.
Online elections WILL OPEN on Tuesday, Nov. 28, 2023 for the Business Litigation, Construction Law, Conservatorship, Guardianship, & Protective Proceedings, Entertainment, Sports, & Marketing Law, Family Law, Health Care Law, Insurance Law, and Solo Practitioner/Small Firm sections. Please note voting will close on Monday, Dec. 11, 2023.
View the full nomination and election schedule online at ocbar.org/elections.
---

OCBA 2024 Membership
Renew your OCBA Membership for 2024 and stay connected to the Orange County Legal Community. Continue to enjoy the benefits of member pricing on CLE programs, events and access to valuable attorney resources. Make yourself visible to the Bar with advertising discounts in Orange County Lawyer magazine. Membership is based on the calendar year, so renew early to avoid any interruption in benefits. Renew Today!
---
Worthy Mentions
Have Good News of Your Own to Share? Contact OCBA Communications Manager Erick Palacios at epalacios@ocbar.org to acknowledge your achievement through the OCBA.

Events

NOVEMBER 28, 2023
OCBA Volunteer Recognition Reception

NOVEMBER 30, 2023
OCBA Specialty Credit Night

DECEMBER 6, 2023
OCBA Mommy Esquire Committee Holiday Luncheon

DECEMBER 7, 2023
OCBA Ethics Update 2023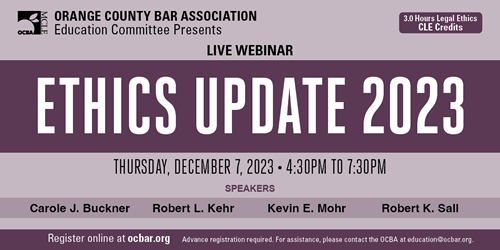 JANUARY 10, 2024 - Sunday, January 21, 2024
OCBA 2024 Last Dash On-Demand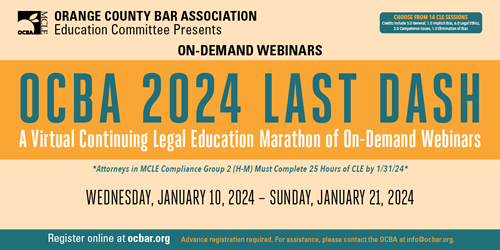 JANUARY 18, 2024
2024 Judges' Night & Annual Meeting
The OCBA is pleased to announce Nikki Presley Miliband as the next Franklin G. West Award recipient.
SAVE THE DATE

Volunteer Opportunities
Orange County Superior Court - Ambassador Recruitment Program
The Orange County Superior Court serves 3.2 million residents in the third most populated county in the State of California. As the 6th largest court in the nation the Orange County Superior Court hosts hundreds of visitors every year. The ambassador program is designed to help these visitors gain a greater understanding and appreciation of the work of the Court, its history, and the art, and architecture of the building. All applicants are required to submit a completed online application, have the proper attachments, and answer the supplemental questionnaire. Interested in applying? Email CommunityEngagement@occourts.org.
Veterans Legal Institute Family Law Clinic - Remote Volunteer Opportunity
If you're a family law attorney, you can advise a veteran on his or her case from the comfort of your own home. VLI seeks volunteers to the monthly Family Law Clinic on the last Friday of the month from 1 PM - 4 PM. Clients receive a free consultation from a family law attorney on his or her Southern California family law case. For more information, please contact Katie Binkley at kbinkley@vetslegal.com.
Veterans Legal Institute General Legal Clinic - Remote Volunteer Opportunity
Looking for an easy way to volunteer from the comfort of your own home? VLI seeks attorney volunteers each third Tuesday of the month to conduct 20 minute phone interviews with veterans around Southern California. For more information, please contact Katie Binkley at kbinkley@vetslegal.com.
CLA SoCal: Remote Pro Bono Opportunity: Unlawful Detainer Answer Clinic
Assist low-income tenants facing eviction during the pandemic by helping to prepare answers to Unlawful Detainer complaints in this remote clinic that takes place every Tuesday, shifts at 1:30 p.m. and 2:15 p.m. Volunteers and clients "meet" via a conference call, and housing staff attorneys are available to provide real-time assistance in a video conference room for the duration of the clinic. Watch the.45-minute prerecorded training video here. To sign up, please email Monica Mar, Associate Director of Pro Bono at mmar@clsocal.org.
CLA SoCal: Remote Pro Bono Opportunity: Eviction Defense: Trial Co-Counsel
CLA SoCal is seeking attorneys with jury trial experience to co-counsel eviction cases with CLA SoCal staff attorneys. Volunteers will work with CLA SoCal staff to prepare the case for jury trial, conduct discovery, participate in settlement discussions, and represent clients at trial, all with the support of a housing staff attorney. To sign up, please email Monica Mar, Associate Director of Pro Bono at mmar@clsocal.org.
Join an OCBA Committee – Your involvement is an integral component of the OCBA's service to its members, the community, and the judiciary.
OCBA HELP-Line – Join the Hotline of Experienced Legal Professionals to provide brief consultations in your area of practice to inquiring OCBA Attorney Members.


BUILD OR EXPAND YOUR CLIENT BASE IN 2024!
The OCBA Lawyer Referral & Information Service is NOW accepting 2024 LRIS New Member Applications. Click here and join now to receive referrals through 2024.
If you have any questions, click here for more information or email lris@ocbar.org.

Young Lawyers Division
Learn more about the OCBA Young Lawyers Division or join today! Visit the OCBA calendar to find great opportunities to connect with fellow YLD members.
2024 Election for OCBA Young Lawyers Division Chair-Elect
All OCBA YLD members are encouraged to vote. In accordance with the OCBA YLD bylaws, the person elected will serve as Chair-Elect in 2024 and then serve as OCBA YLD Chair in 2025. For more information and voting instructions, click here.
DECEMBER 14, 2023
OCBA YLD Holiday Social

---
Masters Division

The OCBA Masters Division is open to practitioners with 25 years or more in the practice of law. Learn more about the OCBA Masters Division or join today and discover unique networking opportunities.
DECEMBER 5, 2023
OCBA Masters Division Winter Celebration

SAVE THE DATE

Law School Corner
OCBA Law Student Members:
Launching a successful legal career starts here! Click here to learn more about your membership benefits.


Law students are invited to participate in one of the 26 OCBA Specialty Sections which focus on professional growth and are a great resource to explore various areas of law. Attend your first section meeting for free, contact membership@ocbar.org to sign up.
---

Western State Law Review is currently seeking lawyers, professors, judges, and other legal professionals who are interested in publishing a legal scholarly article for our 50th Edition of the Western State Law Review journal. All articles published by the Law Review undergo meticulous research and pass through multiple rounds of grammar, citation, and content-based scrutiny. The students of the Law Review lead and carry out each stage of the writing, editing, and publication process. If you would like more information or have any questions regarding publishing an article with Western State Law Review, please contact lawreview@stu.wsulaw.edu. We eagerly await your inquiry and hope that you will choose to publish with us as we celebrate the 50th Edition of our journal!
---


Orange County Lawyer Magazine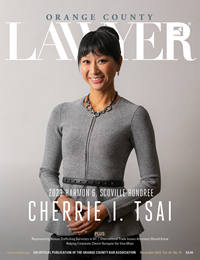 Update Your Mailing Address
During this time, if you wish to re-route your print subscription to another address, you can update your OCBA member profile online.

Interested in advertising?
The OCBA has three main avenues of advertising to OCBA members and the greater legal community. DIGITAL ADVERTISING OPPORTUNITIES are available year round. For more information, visit the OCBA Advertising webpage or contact oclawyer@ocbar.org.
---
Do you have a LAW-RELATED or LEGAL PODCAST?
Contact the Orange County Lawyer magazine's Editor-in-Chief, Gialisa W. Gaffaney, and you could be featured in a future issue of the award-winning Orange County Lawyer magazine.

Don't have a Law-Related or Legal Podcast, but want to contribute to the OC Lawyer magazine? Contact Gialisa W. Gaffaney with interesting legal topics affecting your area of law.

Affiliate Bars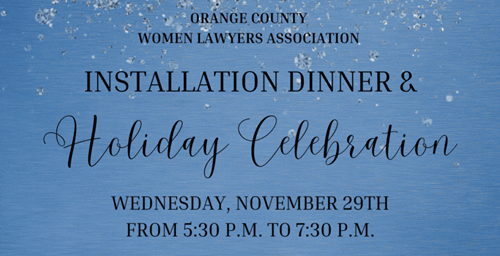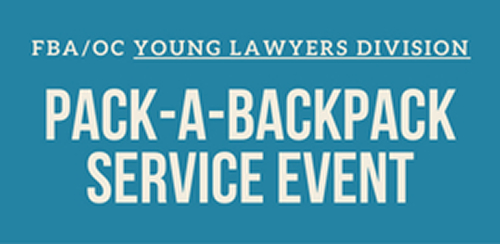 From the Courts & State Bar
For more information, please visit the Courts and State Bar websites.