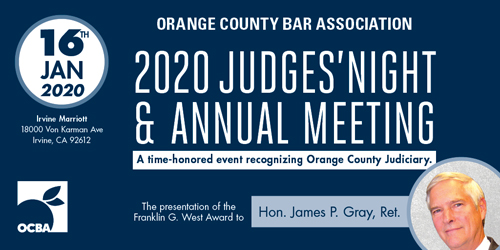 Join Fellow Bar Members for Judges' Night at Irvine Marriott
The 2020 Judges' Night & Annual Meeting will be held on Thursday, Jan. 16, 2020 at the Irvine Marriott. This time-honored event recognizing Orange County judiciary will feature the installation of Scott B. Garner as 2020 OCBA President, as well as the installation of the OCBA Officers and Directors and the OCBA Charitable Fund Directors. A highlight of the evening will be the presentation of the Franklin G. West Award, the highest honor bestowed by the OCBA to the Honorable James P. Gray, Ret.

For full event details or to register, visit the event webpage or download the flyer.

Featured MCLE
OCBA LAST DASH 2020
A One-Day Continuing Legal Education Marathon
Presented by OCBA Education Committee
For Attorneys in MCLE Compliance Group 3 (N-Z)
Saturday, Jan. 11, 2020
Chapman University Fowler School of Law, Orange
Download the flyer for more information or register online.

Attorneys in MCLE Compliance Group 3 (N-Z) - Must Complete 25 Hours of CLE by 1/31/20
Choose from 19 CLE Sessions
Including 9 hrs. General, 1 hr. Bias, 6 hrs. Ethics, 3 hrs. Competence Issues

News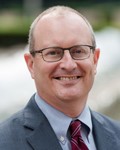 Scott B. Garner: A Lawyer's Lawyer
by Dean J. Zipser and Robert E. Gooding, Jr.
We have the distinct pleasure to "introduce" the OCBA's incoming president, Scott B. Garner. But Scott hardly needs any introduction to this readership. He's been a leader in the Bar—both with the OCBA and other professional organizations—for decades now, and already is known to many. As each of us has worked with Scott for many years in various capacities, we could use this opportunity to share some of his deep dark secrets or embarrassing moments. But we can't—not because we choose to not to do so, but because there's really nothing juicy to share. As many of you know, and the rest of you will learn, with Scott, what you see is what you get. Read the full profile of Scott Garner featured in this month's Orange County Lawyer.
Click here to read Scott's January column, in which he lays out his vision for 2020.
---
Worthy Mentions
Have Good News of Your Own to Share? Contact OCBA Publications & Social Media Manager Jane Tang at jtang@ocbar.org to acknowledge your achievement through the OCBA.

Events
Judges' Night & Annual Meeting
Thursday, Jan. 16, 2020
Irvine Marriott, Irvine
OCBA Charitable Fund Grant Reception
Wednesday, Feb. 19, 2020
OCBA Headquarters, Newport Beach
OCBA Charitable Fund Judge Kenneth Lae Charity Golf Scramble
Tuesday, March 31, 2020
Pelican Hill Golf Club, Newport Coast
SAVE THE DATE

8/27 OCBA Charitable Fund Annual Benefit - Newport Beach Country Club, Newport Beach

Volunteer Opportunities
Monday, Feb. 3, 2020
OCBA Mercy House Homeless Shelter
Presented by the OCBA Community Outreach Committee
Judge UCI Law Moot Court Oral Arguments
Serve as an oral argument judge for UCI Law's Moot Court Competition. Email lawmootcourt@lawnet.uci.edu for more information.
Veterans Legal Institute - Case List & Family Law Clinic
Contact VLI Co-Founder and OCBA Board Member Antoinette Balta for more information.
Pro Bono Bankruptcy Clinics
Contact OCBA Public Services Coordinator Dana Mullin at 949.440.6700, ext. 110, or by email, or Leigh Ferrin, Public Law Center, at 714.541.1010, ext. 290, or by email.


The OCBA Lawyer Referral & Information Service is accepting 2020 LRIS Membership Applications. Click here and join now to receive referrals now through 2020.
Don't forget to RENEW your 2020 LRIS Membership if you are already a current panel member! Deadline to renew is January 31, 2020. All LRIS Renewal Statements and application materials have been sent. If you need another copy, please email lris@ocbar.org.

Young Lawyers Division
Learn more about the OCBA Young Lawyers Division or join today! Here are some great opportunities to connect with fellow YLD members.
Vote for the 2020 YLD Chair-Elect
Calling all current OCBA YLD Members! Vote for the 2020 YLD Chair-Elect. The online election opens today, Jan. 6, 2020, and will continue until Jan. 17, 2020. Visit www.ocbar.org for more details.

Masters Division

The OCBA Masters Division is open to practitioners with 25 years or more in the practice of law. Learn more about the OCBA Masters Division or join today and discover unique networking opportunities.
OCBA Masters Division Announces 2020 Officers
OCBA Masters Division is pleased to announce that, in accordance with the OCBA Masters Division By-Laws, the Hon. Gail A. Andler, Ret., JAMS, will serve as Chair of the Division for 2020. Other Masters Division 2020 Officers are: Darren O. Aitken, Esq., Aitken Aitken Cohn, Vice Chair; Kate Corrigan, Esq., Corrigan Welbourn & Stokke, APLC, Treasurer; Gerry Klein, Esq., Klein & Wilson, Secretary; and Mark E. Minyard, Minyard Morris LLP, Immediate Past Chair.

Law School Corner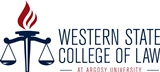 ABA Approves Western State Law School Accreditation
Western State College of Law has received confirmation of its continued American Bar Association accreditation under new ownership. Going forward, the school will operate as Western State College of Law at Westcliff University. Founded in 1966, Western State College of Law is the oldest law school in Orange County, California. The college was granted American Bar Association status in 1998 and counts many prominent attorneys, judges, and politicians among its graduates.

Westcliff University, founded in 1993, is accredited by the Western Association of Schools and Colleges, Senior College and University Commission (WSCUC). It is a globally recognized, nationally and regionally accredited private institution providing practical Business, STEM, and Education bachelors, masters and doctoral degree programs with concentrations, and certificate programs.

Read the official press release.
---
News and Events from Orange County Law Schools

Upcoming MCLE Programs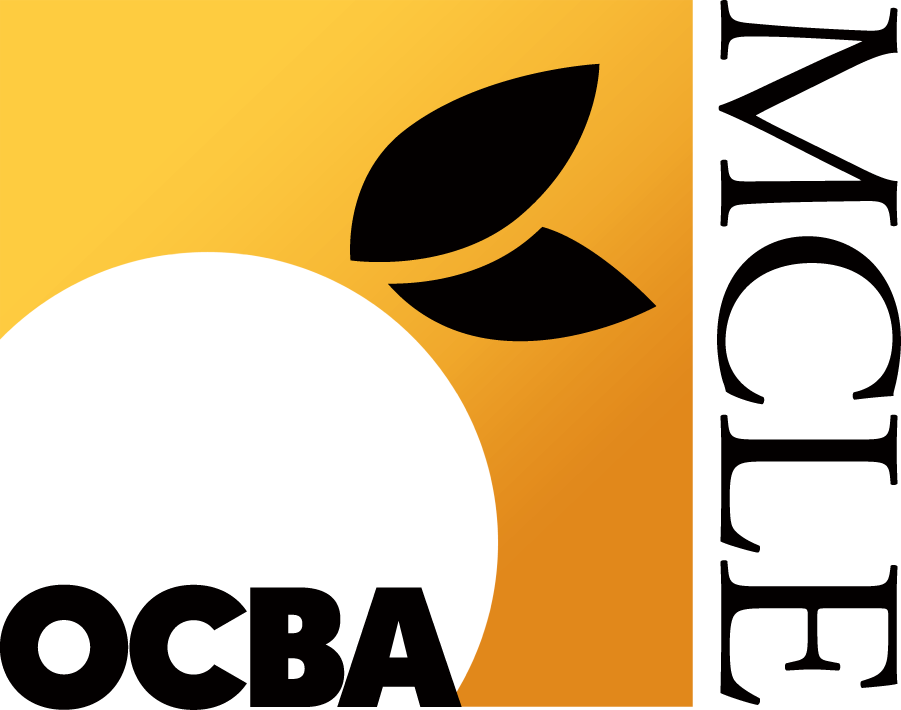 Saturday, Jan. 11, 2020
OCBA Last Dash 2020
Presented by the OCBA Education Committee
Saturday, Jan. 18, 2020
OCBA Last Dash Specialty Credit Replay
Presented by the OCBA Education Committee
Saturday, Feb. 8, 2020
Bridging the Gap
Presented by the OCBA, OCBA YLD & The Daily Journal
Bridging the Gap is a fast-paced, dynamic program designed to help newly admitted attorneys develop a foundation in practical skills, techniques, and procedures that are essential to the practice of law. This exclusive event is for attorneys admitted to the State Bar after November 2017.
April 17-21, 2020
OCBA Travel Seminar to Cuba
2020 OCBA Travel Seminar Co-Chairs: Larisa Dinsmoor and Nikki Miliband
Join fellow members for this 5 days / 4 nights trip to Havana, Cuba. Contact Laura Adams via email at Laura@CubaCulturalTravel.com or phone at 760.645.3269 with any questions. Click here for more information.

From the Courts & State Bar
For more information, please visit the Courts and State Bar websites.