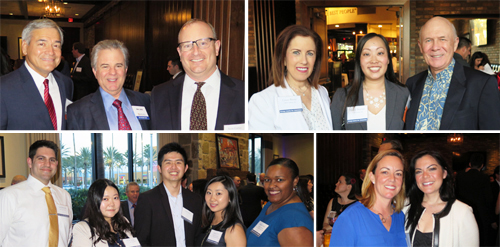 OCBA Spring Member Mixer
OCBA members of the bench and bar enjoyed an evening of socializing and networking at TAPS Fish House & Brewery. More than 100 members attended this seasonal mixer, which featured gourmet appetizers, refreshing beverages, door prizes, music, and more. Thank you to our events sponsors, Regal Court Reporting and Ahern Insurance Brokerage. Visit the OCBA Facebook Page for more photos.

Featured MCLE
OCBA College of Trial Advocacy (Civil)
Presented by the OCBA Education Committee
20 MCLE Credits - Unique Workshop & Program Approach
April 12 – May 13, 2017
Chapman University Fowler School of Law, Orange
Download the flyer for more information or register online.

News
Worthy Mentions
Have Good News of Your Own to Share? Contact OCBA Publications & Social Media Manager Jane Kim at jkim@ocbar.org to acknowledge your achievement through the OCBA.
---
---
Coming Soon from Orange County Lawyer
Get all this and more in the April 2017 issue of Orange County Lawyer magazine. Have an idea that you'd love to see in print? We're always on the lookout for cutting-edge content relevant to the Orange County legal community. Review our writer guidelines and submit your article for consideration!
COVER STORY Who's Who in the OCBA
The OCBA Legislative Resolutions Committee
by Maryalice Khan
The Next Campaign: IRS Changes Its Approach to Large Business and International Audits
by Star Q. Lopez
IRS's New Tools for Tax Collection: Private IRS Tax Debt Collectors and Passport Revocation or Denial
by Marianne H. Man
Arbitration Clauses: A Contemporary Look at Drafting Considerations and Opportunities
by Rebecca J. Callahan
Ethically Speaking: The Disappearing Attorney-Client Privilege
by Carole J. Buckner

Events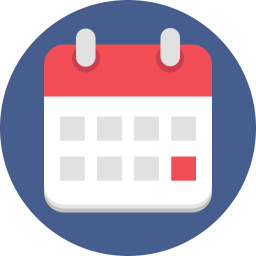 Annual OCBA Section Chair Luncheon
Friday, March 24, 2017
OCBA Headquarters, Newport Beach
MFA Arbitrator Training
Thursday, April 6, 2017
OCBA Headquarters, Newport Beach
OCBA Charitable Fund Annual Judge Kenneth Lae Charity Golf Scramble
Monday, April 24, 2017
Coto de Caza Golf & Racquet Club, Coto de Caza

Volunteer Opportunities
Suits For A Cause
March 1-31, 2017
Donations accepted at OCBA Headquarters - 9:00 a.m. to 5:00 p.m., Monday to Friday.
Got A Party Dress?
On or Before April 3, 2017
Donations accepted at The Law Office of Carolina C. Gomez (2112 East 4th Street, Suite 102, Santa Ana, CA) - 9:00 a.m. to 5:00 p.m., Monday to Friday.
WHW/Men2Work Spring Quarterly Sale
Saturday, April 22, 2017
1800 East McFadden Avenue, Santa Ana, CA 92705
OCBA volunteers are needed to assist with WHW's quarterly sale where shoppers are able to buy clothing and accessories at $5 and under. Click here for full details.
Veterans Legal Institute - Case List & Family Law Clinic
Contact VLI Co-Founder and OCBA Board Member Antoinette Balta for more information.
Pro Bono Bankruptcy Clinics
Presented by the OCBA and Public Law Center
Contact OCBA Public Services Coordinator Dana Mullin at 949.440.6700, ext. 110 or by email at dmullin@ocbar.org, or Leigh Ferrin at 714.541.1010, ext. 290 or by email at lferrin@publiclawcenter.org.
Orange County Transportation Authority
The OCTA is kicking off recruitment for the Measure M Taxpayer Oversight Committee and invites residents of the Second and Third Supervisorial District to apply for a committee member opening. Contact Emily Mason for more information.


Ahern Update:
Entering Into A Business Pursuit With A Client
Lawyers often find investments in client businesses attractive opportunities for making money. Lawyers need to be careful when investing in clients' companies however. Click here to read more about this month's tip.

Young Lawyers Division
Learn more about the OCBA Young Lawyers Division or join today! Here are some great opportunities to connect with fellow YLD members.
YLD Spring Social
Tuesday, March 21, 2017
Antonello Ristorante, Santa Ana
Bad News Bearristers Summer Softball Season
April to June, 2017
Irvine

Masters Division

Learn more about the OCBA Masters Division and discover unique networking opportunities.


Law School Corner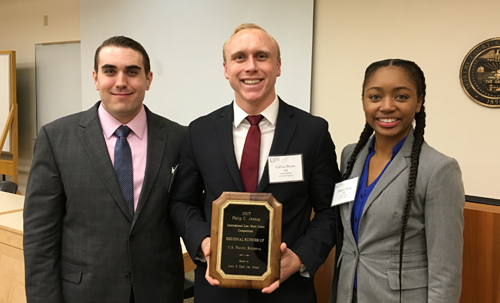 (L-R): Joseph O'Brien, Calvin Bryne, Shunya Wade
UCI Law Advances to International Rounds of Jessup International Law Moot Court Competition
For the first time, UCI Law's Philip C. Jessup International Law Moot Court Competition team has advanced to the competition's international rounds, in the world's largest moot court competition. Read the full story.
---
Law Student Seminar: Becoming A Professional
Presented by the OCBA
Tuesday, March 28, 2017
This program focuses on the "how & why" of developing personal and social skills necessary in preparing for a successful professional career in the law. The event also includes a networking reception immediately following the program where you can put your new skills to work. Download the flyer for more information.
---

Public Interest Law Foundation
2017 Gala Dinner and Silent Auction
Thursday, March 30, 2017
Chapman University Fowler School of Law will honor Hon. Kathleen O'Leary and Antoinette Balta at this event. The evening includes a seated dinner, live entertainment from The Jazz Execs, and no-host bar. To RSVP or for more information, click here.

Upcoming MCLE Programs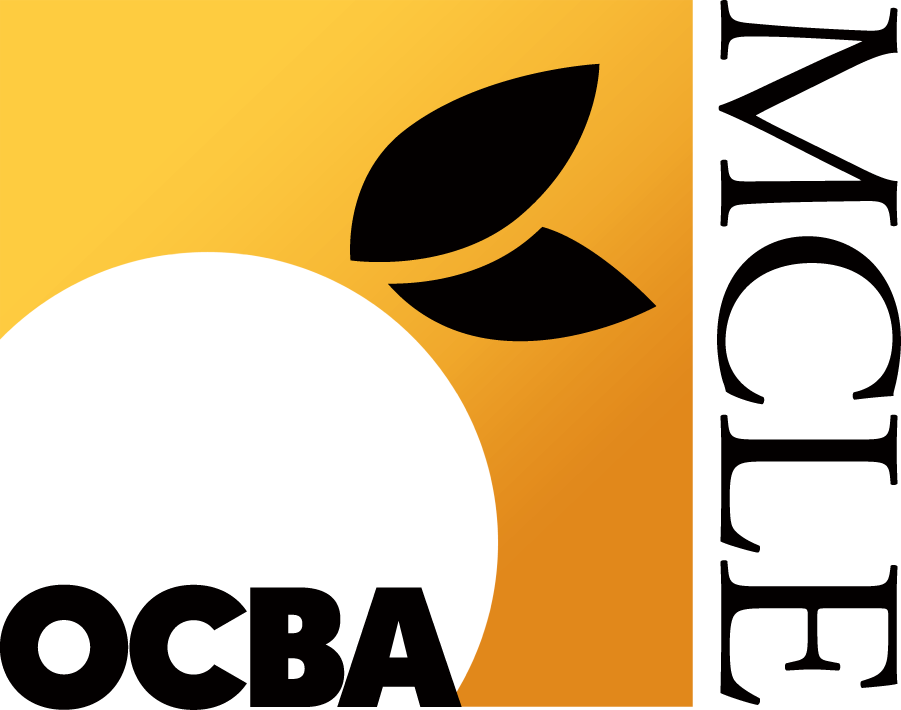 Wednesday, March 29, 2017
Pro Bono Bankruptcy Training: Basic Chapter 7 Petitions
Presented by the OCBA and the Public Law Center
Monday April 3, 2017
Want to Help a Vet? Veterans and Tax Law
Presented by the OCBA Veterans and Military Committee
April 12 - May 13, 2017
OCBA College of Trial Advocacy
SAVE THE DATE
4/27 Fourth Annual Consumer Bankruptcy Update
Presented by the OCBA Commercial Law & Bankruptcy Section

From the Courts & State Bar
For more information, please visit the Courts and State Bar websites.