OCBA Charitable Fund 31st Annual Judge Kenneth Lae Charity Golf Tournament
Tuesday, March 31, 2015
Pelican Hill Golf Club, Newport Coast
Tee up for charity on Tuesday, March 31, 2015 at Pelican Hill Golf Club, Newport Coast. A skilled forecaddie will accompany each foursome to enhance the golf experience. Players without a foursome will be paired. Golf not your game? Join us for the awards reception to network with colleagues and enjoy a spirited raffle. Proceeds benefit the OCBA Charitable Fund, the philanthropic arm of the OCBA, which provides funding and resources to organizations and programs that enhance the system of justice and promote equal justice for all. Download the flyer for more information or register online.

News
OCBA Celebrates Orange County's Sitting Judges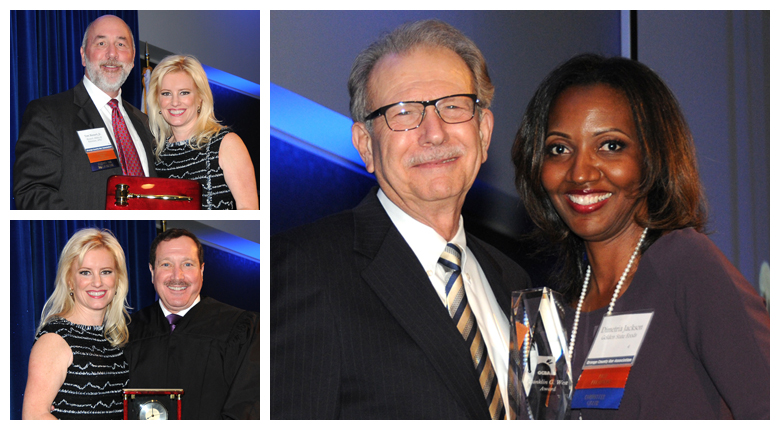 The Orange County Bar Association (OCBA) held its 2015 Judges' Night & Annual Meeting at the Irvine Marriott on Thursday, Jan. 15, 2015, during which Ashleigh Aitken of Aitken Aitken Cohn LLP was installed as 2015 OCBA President. In addition to the installation of the OCBA Officers, Directors, and OCBA Charitable Fund Directors by Hon. Lon Hurwitz, a highlight of the evening was the presentation of the Franklin G. West Award to Hon. James Di Cesare by OCBA Past President and Awards Committee Chair Dimetria Jackson. The OCBA would like to express its sincere thanks to the Business & Corporate, Business Litigation, Construction Law, Corporate Counsel, Environmental Law, Insurance Law, Intellectual Property & Technology Law, Real Estate Law, and Trusts & Estates Sections for helping to underwrite Judges' Night 2015. To view additional photos from the event, please click here.
---
Photos: OCBA 23rd Annual MCLE Last Dash & Trade Show
Offering 19 MCLE credits, this one-day continuing legal education marathon was a smashing success. The OCBA wishes to express our appreciation to all of the judges and attorneys in attendance for volunteering their time as presenters and participating in Last Dash. A special thank you is extended to OCBA Education Committee Chair Jame Mascaro and the Program Chairs who worked so diligently to coordinate the topics and the speakers—Abraham Chuang (Knobbe, Martens, Olson & Bear), Robert Clancy, Jr. (Law Office of Robert A. Clancy, Jr.), Roy Comer (Comer Law Firm), John Cowhig (Stabile & Cowhig ALC), Jeremy Goldman (Law Office Jeremy N. Goldman), Talin Grigorian-Tabrizi (Tomassian, Throckmorton & Inouye LLP), David Nayebaziz (Law Offices of David H. Nayebaziz), Samuel Nielson (Sessions & Kimball LLP), and Edward Susolik (Callahan & Blaine APLC)—as well as to Whittier Law School for graciously hosting our seminar and to the Last Dash Sponsors: LexisNexis; JAMS; National Nurse Consulting; and CourtCall. Please visit our Facebook page to view additional photos from the event. **Attention Lawyers in Compliance Group 2 (Last Name H-M)** Still need to earn some specialty credits before the State Bar MCLE deadline? Check out Last Dash Reloaded.
---
Matthew Buttacavoli Sworn in as IALOC President
Matthew Buttacavoli of Minyard Morris LLP was sworn in as 2014 President of the Italian American Lawyers of Orange County (Lex Romana) during the association's Annual Installation Dinner on Tuesday, Jan. 13, 2015, at Canaletto's Restaurant, Fashion Island, Newport Beach. Also installed were Vice President Dominic Rainone (Law Offices of Dominic Rainone), Treasurer Joseph Ferrucci (Ferrucci Law Group), Secretary Anthony Modarelli (Law Offices of Adrienne D. Cohen), and Historian Michelle Ghidotti (Law Offices of Michelle Ghidotti). For more information, please visit www.ialoc.org.
---
Don't Delay—
Renew Your OCBA Membership Today!
As we enter 2015, we urge our valued members who have not yet renewed their OCBA membership to do so now. Membership is on a calendar basis, so renew early to maximize your annual benefits. Members receive special pricing on seminars and events, discounts on advertising in Orange County Lawyer, access to special affinity programs, and more. Remember to renew for sections and committee participation too. Click here to renew online or contact the OCBA Membership Department at 949.440.6700, ext. 384. And to those of you who have already renewed for 2015, we look forward to serving you in the New Year!
---
Coming Soon from Orange County Lawyer
Cover Story: Judge Di Cesare: Delivering on the American Promise—This year's West award winner seeks no credit for himself.
by Dimetria A. Jackson
How To Be An Effective Appellate Advocate: Top Tips From Justices and Research Attorneys—Perspective from the people who read your papers.
by Mary-Christine (M.C.) Sungaila
Ethically Speaking: Protecting In-House Consultation: Attorney-Client Privilege and Intrafirm Communications—When you need advice about how to handle a client, can you ask members of your own firm and claim the conversations are privileged?
by Robert K. Sall
A Criminal Waste of Space: Airbags in His Underpants—Spoiler alert: You actually need to read things to know what they say.
by Justice William W. Bedsworth
Get all this and more in the January 2015 issue of Orange County Lawyer magazine!

Interested in advertising in an upcoming issue? Please contact Publications & Social Media Manager Lisa Brown at 949.440.6700 ext. 123 or lbrown@ocbar.org and take advantage of your 15 percent OCBA member discount!
---
Save 25% on ABA Job Postings
Celebrate the New Year with terrific savings! Find top legal candidates to fill job openings at a reduced rate with the American Bar Association. Reach more than 16,500 visitors each month, access more than 5,400 resumes from qualified legal professionals, and receive email alerts when resumes matching your ideal candidate are uploaded. Use Promo Code NEWYEAR15 to save 25% on job postings now through Saturday, Jan. 31, 2015. For more information or to purchase a job listing, please click here.

As a reminder, the OCBA offers complimentary job listings through its online
Career Center.
---
OCBA Members Running for State Bar Board of Trustees
OCBA members Teresa A. McQueen of Pedersen McQueen APLC and Scott C. Smith of Best Best & Krieger LLP are running for the California State Bar Board of Trustees in District 4, which is comprised of Imperial, Inyo, Orange, Riverside, San Bernardino, and San Diego counties. Ballots were mailed on Wednesday, Dec. 31, 2014. State Bar members have until Monday, March 2, 2015 to cast their votes, either electronically or by mail. The new trustees will be sworn in at the State Bar Annual Meeting in October. For more information, please click here.
---
Make an Informed Client Referral with LRIS
When a client's legal need falls outside of your area of practice, refer them with confidence to the OCBA's Lawyer Referral & Information Service (LRIS)—Orange County's finest Referral Network and Non-Profit Community Service for over 55 years. LRIS attorneys have expertise in 35 areas of law. Each call is carefully screened, with each client receiving a free brief consultation to review their legal needs and discuss fees. You can refer your clients to LRIS by phone at 949.440.6747 or www.lrisoc.org for a qualified referral.
---
Post Your Jobs with the OCBA
Is your firm recruiting new talent? As a service to our members, the OCBA is always happy to post attorney job openings on our website. Simply send your job announcement including details on how to apply to OCBA Publications & Social Media Manager Lisa Brown at lbrown@ocbar.org. Are you an attorney in transition? Click here to browse the latest listings.
---
Renew &/or Add Areas of Practice to
Your OCBA Membership Directory Listing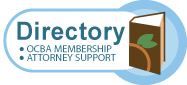 Want to increase your visibility within the OCBA online membership directory? Consider adding your areas of practice and/or languages spoken to your profile! Adding a listing enables your fellow OCBA members to search for you by practice area, rather than by name alone—which could lead to increased referrals. Purchase your first listing for $25, and only $10 for each subsequent listing. Remember: Practice Area listings are on a calendar basis, so if you want to keep your membership directory profile up to date, you'll need to renew any listings purchased in previous years. Click here to get started!

Young Lawyers Division
OCBA Young Lawyers Division 2015 Open House &
Annual Business Meeting
Thursday, Jan. 22, 2015
OCBA Headquarters, Newport Beach
Mix and mingle with your fellow OCBA Young Lawyers Division members, and meet 2015 OCBA President Ashleigh Aitken and 2015 Young Lawyers Division Chair Jesse Bolling. Bring your ideas for 2015 OCBA Young Lawyers Division events, and get involved by joining a committee. Download the flyer for more information or register online.
---
Bridging the Gap
Presented By the OCBA, the OCBA Young Lawyers Division, and The Daily Journal


**Exclusive Seminar for Newly Admitted Attorneys**
Saturday, Feb. 28, 2015
Chapman University Dale E. Fowler School of Law, Orange
Bridge the gap between law school and law practice at this one-day program offering 7.0 CLE credits, including 1.0 Legal Ethics. This valuable introduction to the Orange County Courts and legal community is available exclusively to those admitted to the bar after November 2014. Download the flyer for more information or register online.
---
Are You an Attorney in Your First 5 Years of Practice?
Created to meet the needs of Orange County Bar Association members in their first five years of practice, the OCBA Young Lawyers Division (YLD) brings new attorneys together through educational, community outreach, social, and sporting activities. For just $10 in annual dues, you get access to activities designed to help new lawyers adapt to their demanding profession, encourage early involvement in the legal community, and build camaraderie with fellow lawyers. Click here to learn more about YLD or download an application.

Featured MCLE
Last Dash Reloaded
Specialty Credit Video Replay
Presented by the OCBA


**Choose from 7 CLE Sessions, Including 1 Hour Bias, 5 Hours Ethics, & 1 Hour Competence/SA**
Saturday, Jan. 24, 2015
OCBA Headquarters, Newport Beach
Attention lawyers in Compliance Group 2 (Last Names H-M): If you haven't met all of your MCLE compliance requirements, we invite you to take advantage of our Last Dash Reloaded Specialty Credit Video Replay. Participants have the chance to earn 7 hours of CLE, including 5 hours of Legal Ethics, 1 hour of Competence Issues (formerly Substance Abuse), and 1 hour of Elimination of Bias. Download the flyer for more information or register online today to take advantage of the special Early Bird OCBA member rate of $25 per CLE hour.

Community Projects & Volunteer Opportunities
OCBA Second Harvest Food Bank
Harvesting Event
Sunday, Feb. 1, 2015
Incredible Edible Farm at the Great Park, Irvine
There are 400,000 OC residents, many of them children, who are at risk of hunger every month and are in need of basic provisions. You can help make a difference by volunteering to harvest food for the Food Bank. The OCBA The Orange County Bar Association Community Outreach Committee invites you to participate in the Second Harvest Food Bank of Orange County's Crop Harvesting Event. Harvesting includes planting, picking and/or weeding the current in-season crop. Download the flyer for more information or register online.
---
OCBA Donations Drive for Survivors of
Human Trafficking
Donations Deadline: Monday, March 30, 2015
The OCBA is collecting emergency supplies for survivors of human trafficking. The donations drive will benefit the Orange County Human Trafficking Task Force (OCHTTF), a collaboration of agencies working together to protect victims, prosecute offenders, prevent further perpetration of the crime, educate the public, and build partnerships. Online donations can be made through Amazon by clicking here. Please note shipping charges may apply for orders less than $35. Donated items can be dropped off during regular business hours (Monday through Friday, 9:00 a.m. – 5:00 p.m.) at OCBA Headquarters, 4101 Westerly Place, Newport Beach, CA 92660. Download the flyer for more information.
---
Pro Bono Opportunity: Bankruptcy Clinics
Volunteer your time at the weekly Chapter 7 Clinics held by the OCBA and the Public Law Center (PLC). For more information, please contact OCBA Public Services Coordinator Dana Mullin at 949.440.6700 ext. 110 or by email at dmullin@ocbar.org. Additionally, PLC is collecting donated reference materials for use by pro bono attorneys at the U.S. Bankruptcy Court in Santa Ana. To make a donation, please contact Leigh Ferrin at 714.541.1010 ext. 290 or by email at lferrin@publiclawcenter.org.

Law School Corner
California Bar Foundation 2015 Diversity in the Public Interest - Bar Exam Scholarship
Deadline: Wednesday, Feb. 11, 2015
The California Bar Foundation is pleased to introduce the Diversity in the Public Interest - Bar Exam Scholarship. This scholarship supports bar exam expenses for law students from diverse backgrounds who plan to pursue careers in the public interest sector. "Diversity" includes a broad array of backgrounds and life experiences, including students from groups or with skills or attributes that are underrepresented in the legal profession, and specifically including students from socially and economically disadvantaged backgrounds. To submit an application online, please click here.
---
Looking for Talent?
Consider utilizing the Whittier Law School Career Development Office to help you obtain talented law clerks and attorneys. We are here to help you with your hiring needs. Become a part of the Whittier Law School family today. To speak with someone at the Career Development Office, please email Assistant Dean of Career Development and Employer Outreach Randy Reliford at rreliford@law.whittier.edu.
---
Hire from Western State!
If you or an attorney you know have an opening for new law clerks or new associates, look no further than Western State. Our current students bring practice-ready skills, possess a great work ethic, and are available for spring and summer law clerk positions. With Bar results right around the corner, this is the perfect time to start interviewing for new associates. Contact Pam Davidson in Career Services to post your job opening for free or arrange for convenient on-campus interviews: pdavidson@wsulaw.edu or 714.459.1106. We look forward to finding your next great hire!

Masters Division

The OCBA Masters Division was founded in 2011 to serve the unique abilities, needs, and agenda of practitioners with 25 years or more tenure in the practice of law. The purposes of the Masters Division are to uphold the honor and dignity of the legal profession, apply the knowledge and experience of its members to promote the public good, and cultivate social intercourse among its members. For more information, please click here.

Upcoming MCLE Programs
OCBA Last Dash Reloaded (Specialty Credit Video Replay)
Saturday, Jan. 24, 2015
OCBA Headquarters, Newport Beach
Register online or download the registration flyer.
Homegrown Success Stories: Thriving Firms in Orange County and How They Got There
Presented by the OCBA
Thursday, Feb. 19, 2015
Hilton Orange County/Costa Mesa, Costa Mesa
Register online or download the registration flyer.
**SAVE THE DATE**
OCBA Personal Injury Seminar
Thursday, March 26, 2015
Westin South Coast Plaza, Costa Mesa
OCBA College of Trial Advocacy
Wednesdays & Saturdays, April 15 – May 16, 2015
A Salute to a Legal Giant
Presented by the OCBA
Tuesday, April 28, 2015
OCBA Alternative Dispute Resolution Section Seminar
Wednesday, May 6, 2015
OCBA Headquarters, Newport Beach

From the Courts & State Bar
Serve Your Community as an Orange County Grand Juror
Deadline Extended: Friday, Jan. 30, 2015
The Orange County Superior Court is now accepting applications for the 2015-2016 Orange County Grand Jury. A new 19-member Grand Jury will be empaneled for a one-year term that begins July 1. Superior Court judges interview qualified applicants, and Orange County Sheriff's Department officers conduct background investigations on these candidates. Selection of the 19-member Grand Jury is achieved by a random drawing of the top 25 to 30 candidates nominated for service, to equally represent each of the five Orange County Supervisorial Districts, as required by law. For more information and details on how to apply, please click here.
---
Pooled Court Reporter Coverage for Civil Courtrooms
Effective Monday, Feb. 2, 2015, all 24 Orange County Superior Court civil courtrooms, including the civil complex courtrooms, will shift from one-to-one assignment of court reporters to civil courtrooms for all hearings to a system where court reporters are assigned to a courtroom as needed for trials and evidentiary hearings only. Official court reporters (i.e., court reporters employed by the Court) will only be provided for trials and matters in which oral evidence will be presented. The expansion of this project follows a successful pilot which has been operating in 14 unlimited civil courtrooms since Monday, Aug. 25, 2014. For more information, please click here.
---
Settle Your Case Quickly, Cost Effectively with Orange County
Superior Court's Civil Mediation Program
The Orange County Superior Court and others offer a variety of Alternative Dispute Resolution (ADR) processes to help people resolve disputes without going to trial. ADR is usually less formal, less expensive, and less time-consuming than a trial. Through the Orange County Superior Court's Civil Mediation Program, each side in the dispute will pay only $150 to the mediator, which covers the costs of the mediator's preparation and up to the first two hours of the mediation session. For more information, please download the flyer or visit the Court website.
---
State Auditor to Conduct Review of State Bar
The State Bar of California is working with the California State Auditor on an independent examination of the bar to ensure its members and the public that there is oversight and accountability. The California State Auditor is scheduled to conduct its every-other-year assessment of the bar in early 2015. For more information, please click here.
---
Call for Nominations: Loren Miller Legal Services Award
Deadline: Monday, March 16, 2015
The California State Bar seeks nominations for the 2015 Loren Miller Legal Services Award, which is considered a lifetime achievement award and is given annually to a lawyer admitted to practice in California who has demonstrated long-term commitment to legal services and who has personally done significant work in extending legal services to the poor. For more information including details on how to submit a nomination, please click here.
---
Call for Nominations: President's Pro Bono Service Awards
Deadline: Monday, March 16, 2015
The California State Bar currently seeks nominations for 2015 President's Pro Bono Service Awards, which recognize California attorneys, law firms, and associations of California lawyers who have provided or enabled the direct provision of legal services to poor persons or organizations whose primary purpose is to provide legal services to the poor, free of charge, without expectation of compensation from the client, in the preceding calendar year. For more information including details on how to submit a nomination, please click here.
---
State Bar Urges Attorneys to Join Campaign for Justice
As leaders at the forefront of your profession and your community, you know that the issues confronting the legally needy touch us all. Help the State Bar close the Justice Gap. Join the Campaign for Justice by visiting www.caforjustice.org, where you can make a donation online. Alternatively, you can include a contribution to the campaign with your dues bill. Make a gift; tell a colleague. The justice gap is a problem for every lawyer and for every Californian. California looks to you for leadership. Your gift is the first step. Please contact Dan Passamaneck with any questions. He may be reached at daniel.passamaneck@calbar.ca.gov.
---
Call for Applications: California State Bar Committees
Deadline: Monday, Feb. 2, 2015
Each year the State Bar of California offers attorneys in California an opportunity to contribute to the legal profession and the public by volunteering to serve on one of the State Bar's committees. The State Bar annually recruits applicants for 10 standing committees, 16 section executive committees, and 18 special committees, boards and commissions. The State Bar's Board of Trustees appoints approximately 150-200 new members every year to these committees, and strives to make appointments that will achieve diversity and broad representation of the California legal profession. The appointments generally are made by the end of July, with terms commencing at the close of the State Bar Annual Meeting in the fall. For more information or to download an application, please click here.
---
Request for Public Comment: Attorney Blogging
Deadline: Monday, March 23, 2015
The California State Bar seeks public comment on Proposed Formal Opinion Interim No. 12-0006, which considers: Under what circumstances is "blogging" by an attorney subject to the requirements and restrictions of the Rules of Professional Conduct and related provisions of the State Bar Act regulating attorney advertising? For more information and details on how to submit comments, please click here.
---
For more details and information, please visit the Court's website and the State Bar website.